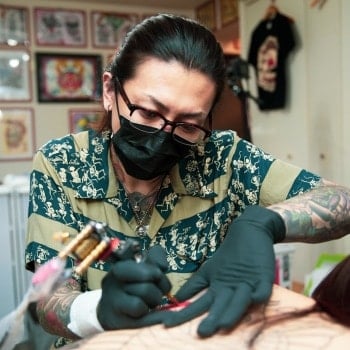 1982年生まれ、福岡県出身。
2005年より福岡にて彫師としての活動開始。
2009年より活動拠点を東京に移す。
これを機に様々な国内イベントや海外コンベンションに多数参加。
2014年より東京下北沢「SHIMOKITA-INK」に所属。
2016年より以前から交流のあった大阪のタトゥースタジオにゲストアーティストとして所属したのを機に活動拠点を大阪に移す。
2018年より静岡「HOCUS POCUS TATTOO」にゲストアーティストとして所属。
2018年10月大阪「NINE STATE DESIGN」設立。
Born in 1982, from Fukuoka prefecture.
Started activities as a sculptor in Fukuoka since 2005.
From 2009, move the activity base to Tokyo.
On this occasion many participate in various domestic events and overseas conventions.
It belongs to Tokyo Shimokitazawa [SHIMOKITA-INK] since 2014.
Transfer the activity base to Osaka on the occasion of belonging as a guest artist to Osaka tattoo studio where exchange had been held since 2016.
Since 2018 belongs to Shizuoka [HOCUS POCUS TATTOO] as a guest artist.
October 2018 Established Osaka [Nine State Design].